COVID-19 Heats up in Connecticut
Connecticut's COVID-19 cases are on the rise and we desperately need a mix of federal response and community cooperation to get us through.
Through the summer, Connecticut was a model for getting the virus under control. But cases and hospitalizations started to creep up in mid-August, and now are rising more steeply.
Right now, COVID is spreading more rapidly in certain cities and towns in the state than in others. A new color-coded map is now put out weekly by the state to show which towns are more at risk, based on the average number of cases that have occurred in the last two weeks. The most recent map shows 19 towns in red (up from 11 last week), 22 in orange (up from 14) and a good number in yellow.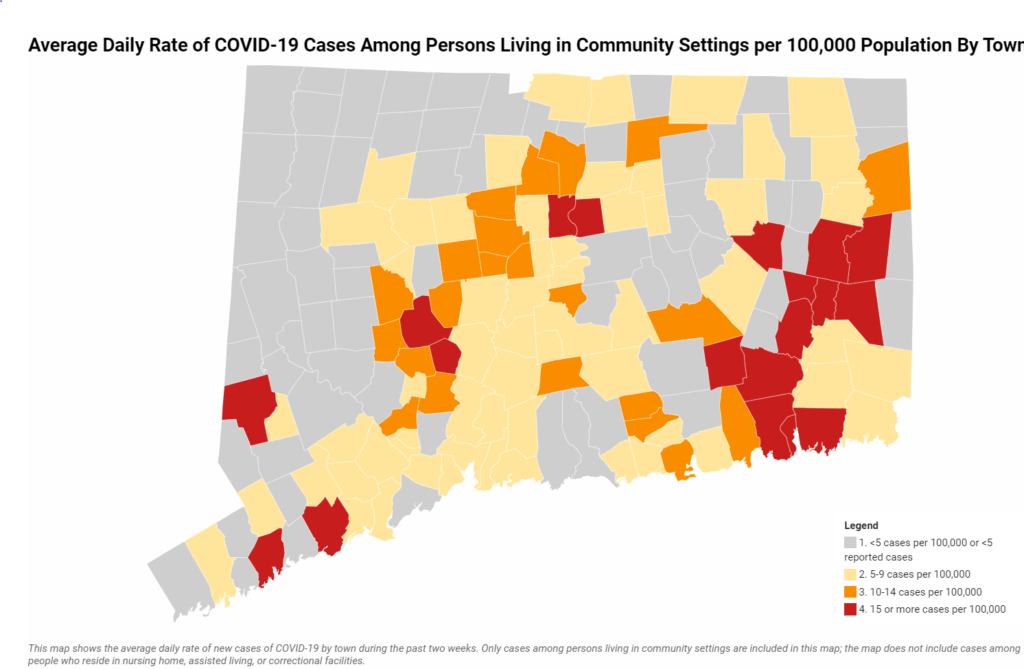 Source: https://portal.ct.gov/Coronavirus/COVID-19-Data-Tracker, accessed 10/22/2020

What can we do to reverse the trend?
Until there is a vaccine widely available, we must rely on public health and prevention measures to keep us safe. Here are the five things Dr. Anthony Fauci recommends:
Universal wearing of masks
Avoid close contact with others (keep at least 6 feet physical distance)
Avoid crowds
Do things more outdoors when possible
Wash your hands frequently
Governor Lamont often condenses this into the "three Ws": Wear a mask, Watch your distance, Wash your hands.
With the weather getting colder and with pandemic fatigue setting in, these actions may be getting harder for many of us. Also, if you are an essential worker, like a teacher, nursing home aide or grocery store clerk, you do not have the option of avoiding crowds. Yet, as much as we are able, we need to redouble our efforts to follow these guidelines.
Testing, Testing, Testing
But we also need the state and federal government to do their part to manage other crucial public health measures: testing and contact tracing. Testing is the foundation of these efforts. To stop the spread, we have to find the cases.
Understanding the value of testing early on, Connecticut made a concerted effort to secure contracts for both collecting and performing tests. This infrastructure has allowed us to make testing more available to at-risk populations and to ramp up testing when cases are increasing in a given community. We are one of the best ranked states when it comes to having sufficient testing capability.
Funding, Funding, Funding
Testing capacity requires funding, and to-date, much of that funding has been supplied by the major aid packages passed by the federal government, the Families First Act and the CARES Act. Some of that money has been set aside for providers and labs to be reimbursed when they perform tests. And Medicaid is an important source of funding. The federal government is covering 100% of the cost of tests for Medicaid recipients and has created a special route for Medicaid to pay for testing of the uninsured.
Two important streams of funding for testing, however, went directly to the state, via the CARES Act's Coronavirus Relief Fund. One is covering the cost of testing employees in nursing homes, assisted living facilities and other residential care settings. And $250 million is covering the robust testing effort in Connecticut which has enabled us to perform thousands of tests, free to the public, without worrying about collecting insurance information or sending out bills.
But that ability to target testing in both long term care facilities and throughout the state, is seriously threatened. That is because the Coronavirus Relief Fund is only authorized to pay for testing through December 30, 2020.
The House has passed two different versions of a new Coronavirus bill. The most recent, passed on October 1, allocates $2.2 trillion for direct stimulus payments, supplemental unemployment benefits, housing, childcare, education, food aid and support for small businesses to keep the economy from total collapse. And it also includes much-needed funding for testing and contact tracing. If the virus can't be contained, the economy can't be sustained.
With the clock ticking, and the Senate too busy trying to rush through a Supreme Court appointment to negotiate a compromise, there are no guarantees that the federal government will renew these funds – just when we need them more than ever.
So, one more thing we have to advocate for in this very busy political season is for the Senate to pass the next Coronavirus relief package. If the federal government doesn't come through, then Connecticut is going to have to prioritize funding testing with state dollars in order to stand a chance to beat back the fires of COVID-19.
RESOURCES
America's Newest Wave of COVID-19 Cases Explained, Vox, Dylan Scott, October 16, 2020
Pelosi Cautions that Congress May be Far From Passing a Stimulus Bill, Despite Progress on a Deal, CNBC, Jacob Pramuk, October 22, 2020
Connecticut Coronavirus Trends